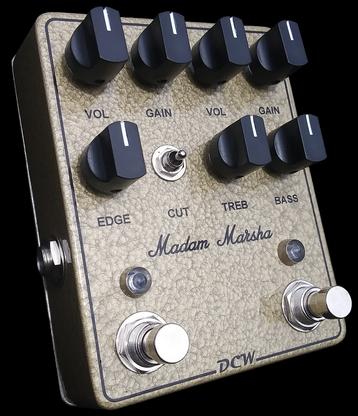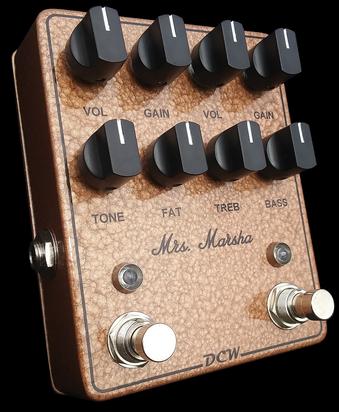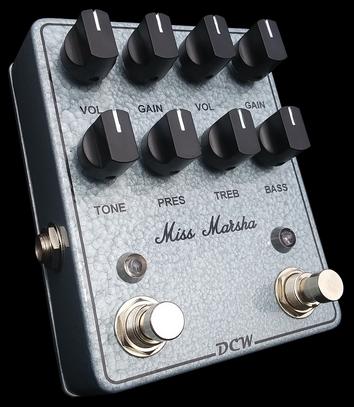 MARSHA Dual Overdrives
​

Three flavors of independent, dual overdrives that will match up great with any player looking for a quality Marshall In A Box! All three pedals feature the same right side overdrive as the first circuit in the signal chain. The right side is an open sounding, overdriven "JTM45" inspired circuit. This side can be a volume boost, an EQ shift, an edge of breakup tone, a light overdrive, or a medium gain drive tone depending on how you dial it in. With the two band EQ, you are able to keep the sound full-bodied while producing plenty of bark, or set it for more of a mid-boost when paired with a scooped American sounding amp. It works especially well for big open chords that ring out with clarity and authority.

The second side is where your own playing style dictates what model works best for you. "Miss Marsha" is the wild child of the bunch. It has a "JCM" style distortion based on the DCW Tomahawk and offers plenty of high gain sizzle and cut. Thick palm mutes and searing high gain solos here. "Mrs. Marsha" offers a bit more refinement. It has a "Hot-rodded Plexi" style drive side based on the DCW Woodsman, offering a mid-boost and a very dynamic feel under the fingers. Works great for mid gain rhythm or classic solo tones. "Madam Marsha" is the most sophisticated of the group. It has a "Bluesbreaker" style side based on the DCW Sunrise Overdrive and offers the sweet breakup of a 1962 cranked up. Light grit up through medium drive, with the ability to tame the high end a little or a lot with the included three position CUT switch. From JTM to JCM, Bluesbreaker to Plexi, there is a Marsha for every player looking for authentic British tones in an independent, dual overdrive format!